Participants
CSIRO Hydrochemistry
The CSIRO National Collections Hydrochemistry team is leading the INIV voyage, Hydrochemistry is a part of the Engineering & Technology program within NCMI. Hydrochemistry operates laboratories in Hobart and Perth, Australia, as well as routinely aboard RV Investigator. NCMI Hydrochemistry specialises in the analysis of oceanographic water parameters, Salinity, Dissolved Oxygen and Dissolved Inorganic Nutrients. The team is comprised of 9 members, all members regularly complete oceanographic voyages.
NCMI Hydrochemistry recently published their standard oceanographic nutrient analysis method and protocol, used to achieve highly reproducible nutrient results while at sea. The publication is titled: Methods for reproducible shipboard SFA nutrient measurement using RMNS and automated data processing
Hydrochemistry team members
| | | |
| --- | --- | --- |
| | | Alicia Camac |
| Stephen Tibben | Merinda McMahon | Jack McDonald |
| Kendall Sherrin | Dr. Julie Janssens | Peter Hughes |
The NCMI Hydrochemistry team is managed under group leader and chief scientist for the INIV voyage, Andreas Marouchos.
International Engagement
To maximise the scientific benefit for participants, we are hoping to involve as many international agencies as feasible. 30 scientific staff can be accommodated aboard RV Investigator, this enables the project to include a wide array of participants.
The initial expression of interest round yielded an excellent turnout of 26 submissions. These submissions spanned 12 countries and 21 different agencies.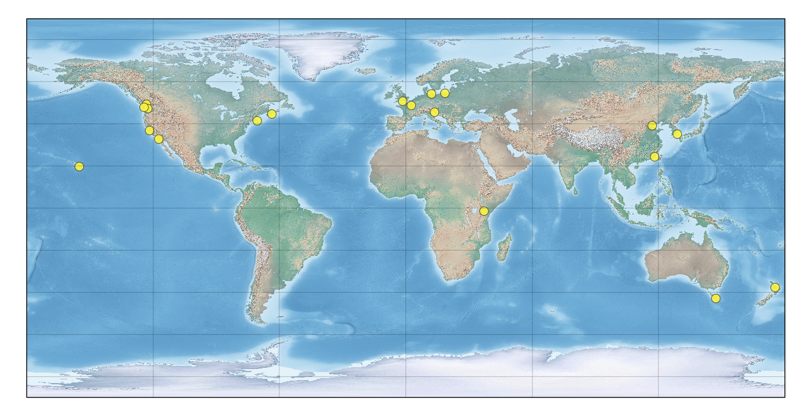 Distribution of locations, indicated by yellow dot, for agencies that submitted expression of interest during the initial round.
Plymouth Marine Laboratory
Malcolm Woodward is a chair of the SCOR working group 147, COMPONUT, and a prominent contributor to the improvement of nutrient measurements for over 30 years. Malcolm is assisting with the planning and management of the INIV project as a Primary Investigator.
Voyage & Project Supporters
We are proud to have the support from the Global Ocean Ship-Based Hydrographic Investigations Program (GO-SHIP). The program has extended their support for the voyage and views the project as an optimal way of improving intercomparibility and therefore data quality of nutrient data within GO-SHIP.